Condo communication at its best!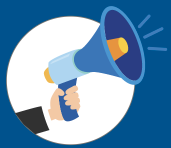 10 questions you should be asking your
potential digital signage provider
By clicking "Download" you agree to the privacy policy and receiving communication from UB Connex
Our Approach
Our screen layout is designed for condo communications
The main purpose of our product is to increase and enhance condo communication between management and owners. UB Connex's Digital Notice Boards change how property managers communicate; with our communication platform, managers can deliver daily and weekly notices and content in real-time to the owners.
The layout of the the UB Connex screens is configured to display your notices on the entire screen. To support condominiums that are looking to save money, we offer an optional local advertising subsidy to offset some of the cost of the system for our customers.
If you choose to opt-in for an ad subsidized system, we would never place your important notices between a long loop of ads! Instead, the condo communication section is always visible and never blocked by an ad. Your condo information and notices will take 66% of the screen space (by contract) and local advertisers are shown on the other one third (33%) of the screen. Never covering your notices.
Check out our live screen layout here:
https://maxtvmedia.com/presentation/
UB Connex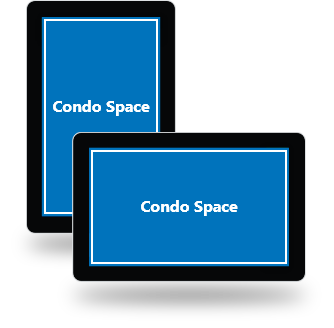 UB Connex No Advertising Layout
The entire space of the screen is dedicated for the use of the condo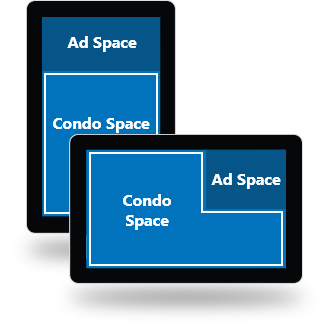 UB Connex Subsidized Layout
Only 33% of the screen is dedicated to ads, the other 66% is dedicated for the use of the condo.
The Competition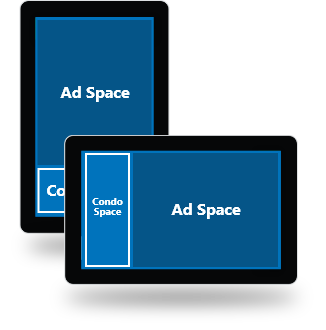 Other providers typically use 75%-80% of the screen for advertising, while the condo notices gets only 20%-25% or lost between a long ad loop.
Our Product
How our platform works
We provide the property manager, administrator or any board member (if requested) direct access to our web-based platform. Each user gets access to more than 500 pre-made notices in categories such as electrical, water, fire, pets, cigarettes, parking, condo rules and many more.
Notices are easy to navigate and update, just like a Word document. Users control the time, day and date shown on the notice display and can pre-schedule notices for the future. And most importantly, it's all remotely controlled!
This means authorized users can log in from their phone, home computer or anywhere else in the world and see their notices in real time.
Because when problems at your condo happen after working hours, on weekends and on holidays, your owners need to know it's taken care of. Imagine the relief your property manager feels logging into their phone to quickly upload a message like "Dear residents, we're aware that the garage door isn't opening. An emergency repair crew is on the way."
UB Connex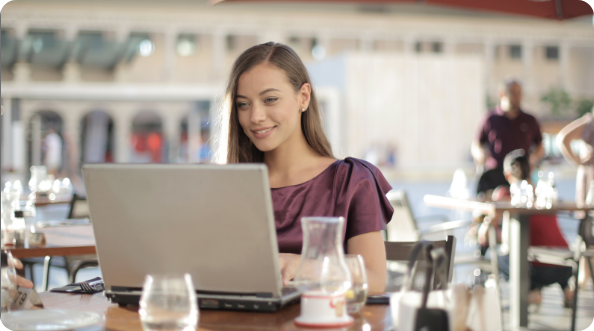 Cloud based REAL-TIME system, upload condo notices in seconds from the convenience of your office, home, or mobile phone.
The Competition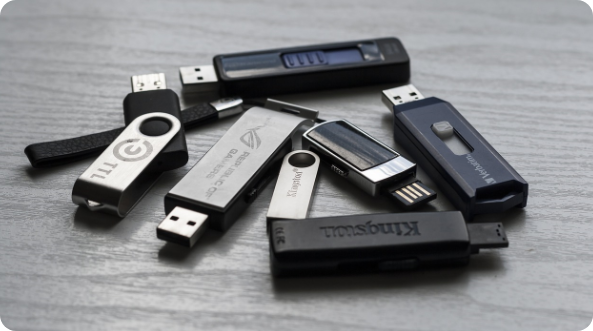 Outdated system that requires you to physically go to the elevator and plug in a USB to update your notices.
Our Guarantee
Our service policy and warranty
We take customer service seriously. We monitor our screens daily and in most cases, we are aware of any problems before our customers do. We are very proud of this proactive approach and when an issue arises, we're proud to offer the fastest and most reliable service in the industry.
Our warranty covers your system edge-to-edge: Screens, Software and Damage insurance* is provided for the full length of our agreement; we do not charge you for service calls, parts or replacement screens and we provide software and hardware upgrades every year. With UB Connex, there are no hidden fees and no surprises.
UB Connex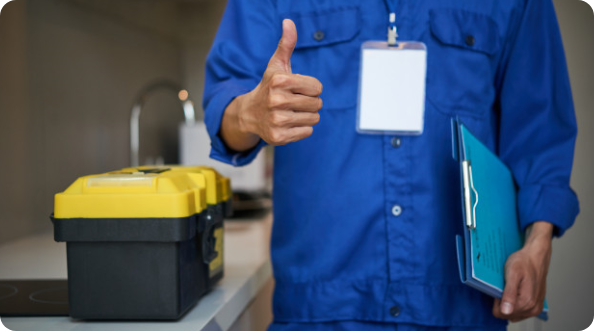 Edge-to-edge coverage: Screens, Software and Damage Insurance*. Our team of professional service technicians at your service 24/7!
The Competition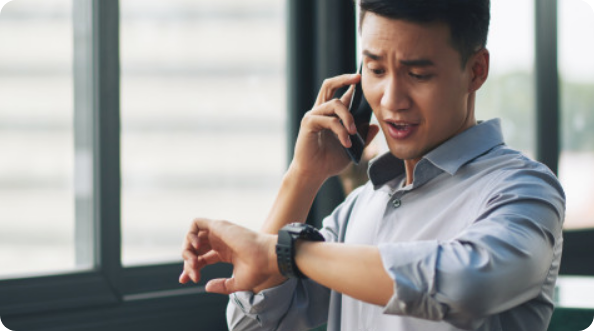 No immediacy in service calls. Your are not covered for replacement parts nor damages to your screens.
Take your communication to the next level
and connect with your residents
Contact Us
We never place hidden cameras in our screens
We don't hide cameras in our screens to track your owners, unlike other providers who may offer "sweeter" deals. Placing hidden cameras in your communication screen is offensive to your owners and residents and can put your corporation and reputation in harm's way.
For more information about hidden cameras in condo communications,
read this article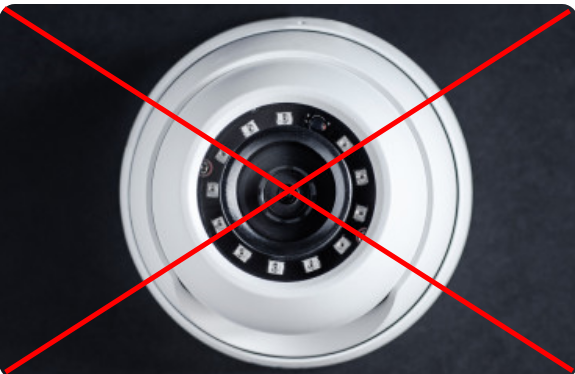 Shared Revenue
It may look attractive when someone comes to your office and waves with a blank cheque promising you that money will fall from the sky, but the reality is, it is not that simple. Residential buildings unlike commercial buildings do not have the number of eyeballs necessary to create a meaningful amount of revenue to be able to provide good product, system, software, support and warranty. Through our tenure in businesses we've seen companies in the industry appear and disappear overnight leaving Boards of directors embarrassed in front of their residents to have screens that no one else can service and the company who installed them is now out of business. Like in every business, to be able to provide great customer service a company needs to be sustainable and profitable. Sharing profit in the residential space will drive any company to the ground – whether they know it or not. So When it looks too good to be true it may very well be.
To learn more about risks associated with revenue sharing,read this article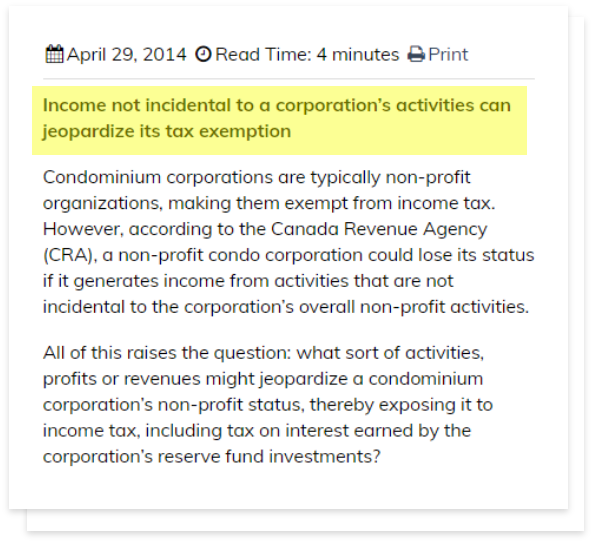 Behind every successful company there is a successful team.
Our clients speak louder than we do
With nine years in the industry and over 500 condos currently using our platform and screens, we work with 500 property managers across 50 property management companies—and have a 99% client retention rate!
If you want to talk to some of our clients, let us know; we are proud to have more than 150 board members and property managers as our ambassadors who are willing to talk to you about what it's like to work with us. Check out ourtestimonial page.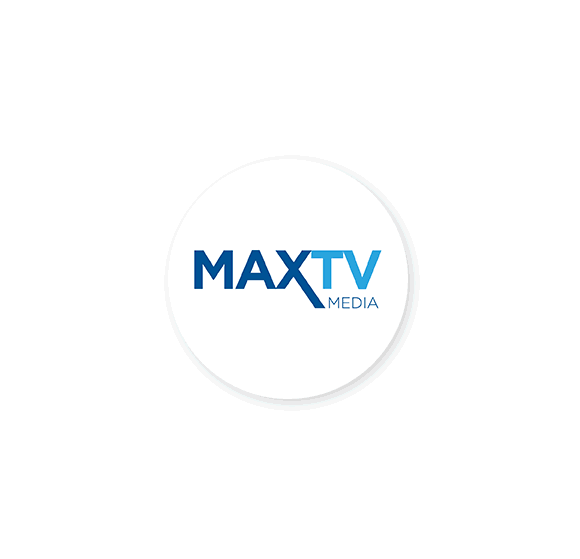 Our Coverage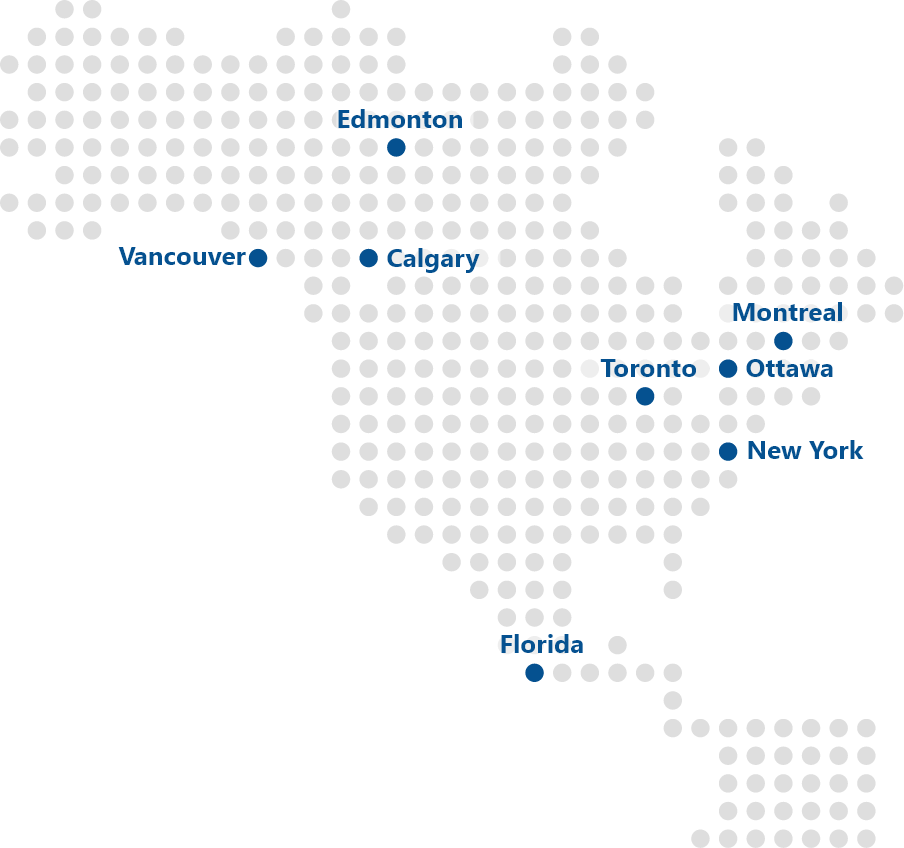 Take your communication to the next level
and connect with your residents
Contact Us