Choose the screens that best fit you.
Screens for elevators & other common areas with optional interactive features.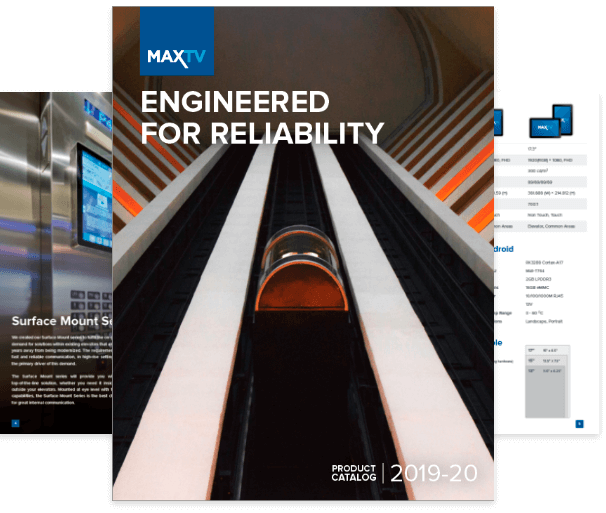 2019-20 Product Pricing Catalog
UB Connex creates highly reliable, easily customizable small form factor hardware that is built and installed in days. Take a look at our full line of screens engineered for today's most advanced condos.
Frequently Asked Questions
Do I need to go to the screen to update the content?
Absolutely not! our system is cloud based and all the updates can be done from the convenience of your laptop, desktop or even your mobile phone. You can schedule notices in advance and make updates later if needed. On top of that, you control when your notice goes off the screen and the next notices comes up with a built-in scheduling feature.
Do you provide templates for condo notices?
Yes, we pride ourselves on being intimately familiar with the condo industry and we have established an ever-growing library of over 500 notices for every possible occasion. All you need to do is pick a notice, adjust some details, set the dates, and you are all set. In addition, if you choose, you can subscribe to our monthly newsletter in which we send most relevant templates for each month!
Are the screens wireless?
The screens are equipped with wireless technology which in turn makes the installation processes simple and cost-effective. If you choose to go with a wired connection, that is an option we support too.
What are the content options for the screens?
We partner with local media providers to supplement your screens with local news, latest sports, and real-time weather updates. You control which content your residents see.
What locations can the screens be installed?
The screens are installed at high-traffic locations of the condo at eye level for better engagement. Common locations include elevators, lobby, parking levels, mailrooms, guest houses and laundry rooms. If your condo is a high-rise we recommend installing your screens in the elevators for maximum visibility to the residents.
Do you use a certified elevator contractor for the installation of screens in the elevators?
Yes. We are versed in the by-laws and the code of every state or province we operate in and we work with licensed local elevator contractors to install screens in elevators. Depending on your location you may be required to submit paperwork to the prevailing authority that oversees elevators in your city. The installation process is turn-key and we will do all the necessary submissions on your behalf.
Do we need special wiring in the elevators?
No, our platform is wireless, which makes the installation process simple and short. Our certified technicians work hard to ensure minimal downtime time for each elevator. Typical display installation requires between 2 to 3 hours.
We have a very tall building, are you sure that your technology is going to work in the elevators?
Yes, we work with hundreds of high-rise condos and have the experience and the right technology to keep good quality of service, not matter how tall your building is.
Is there training provided after the installation?
Yes, we provide training session with one of our product managers right after the installation is done. We support, maintain, and troubleshoot at a time of need and our technical support is always available to assist. Please check our support page to review our latest customer satisfaction score.
Are you insured?
Yes. We cover any liability related to our displays with an extensive insurance coverage of:
Bodily injury and property damage liability $5,000,000, personal Injury and E&O liability $2,000,000 and tenant's legal liability $100,000.
What is covered in the warranty?
Our warranty covers our screens, software, and technology for the full length of our agreement; we do not charge you for service calls, parts or replacement screens and we provide software and hardware upgrades every year.
Who takes responsibility for damage?
Your screens are insured through our insurance policy and if there was any damage made to the screens, we've got you covered. We will replace your screen at no cost to the corporation*.
Do you offer advertising on your screens?
Yes. If the property meets the UB Connex advertisement requirements, we can take back 1/3 of your screens' real-estate for local advertising which in turn will subsidized your investment with external ad revenue. This subsidy applies to the installation, maintenance, technical support, and the featured content. This means a low-cost investment with guaranteed value.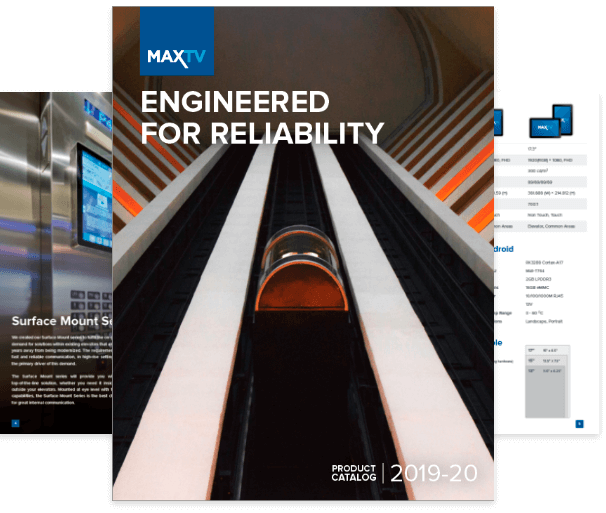 2019-20 Product Pricing Catalog
UB Connex creates highly reliable, easily customizable small form factor hardware that is built and installed in days. Take a look at our full line of screens engineered for today's most advanced condos.